Coverking Skanda Camo Seat Covers custom fit made with Neosupreme Printed Series, a collection of original patterns exclusive to the Coverking brand.
Coverking Skanda Seat Covers

Coverking Skanda Camo Seat Covers for the military mind, we have shades of camo from tan to green. Choose from the traditional or digitally marked camo in unique styles solids or with black sides. Custom-made to order per your vehicle seat style. The material is made to resist stains and can be hand washed when necessary.
Traditional & Digital Military Style Coverking Camo Custom Car Seat Covers
Featuring a variety of traditional and digital camouflage
Made from Neosupreme for insulation and comfort
UV treated to resist rotting, mildew and stains
Soft cushioned insulation adds to the comfort of your ride
Custom manufactured to the exact specifications of your seats.
Available for front, middle and rear seat rows.
Includes headrest, armrest and console covers (split bench rows only), airbags cutouts and map pockets.
Features Traditional & Digital Camo prints - Sand, Urban, Jungle & Pink.
Coverking Skanda Digital Camo Car Seat Covers colors to choose from:

Digital Urban

Traditional Urban

Digital Jungle

Traditional Jungle

Digital Sand

Traditional Sand

Digital Pink

Traditional Pink
*** Color may vary since these are digital images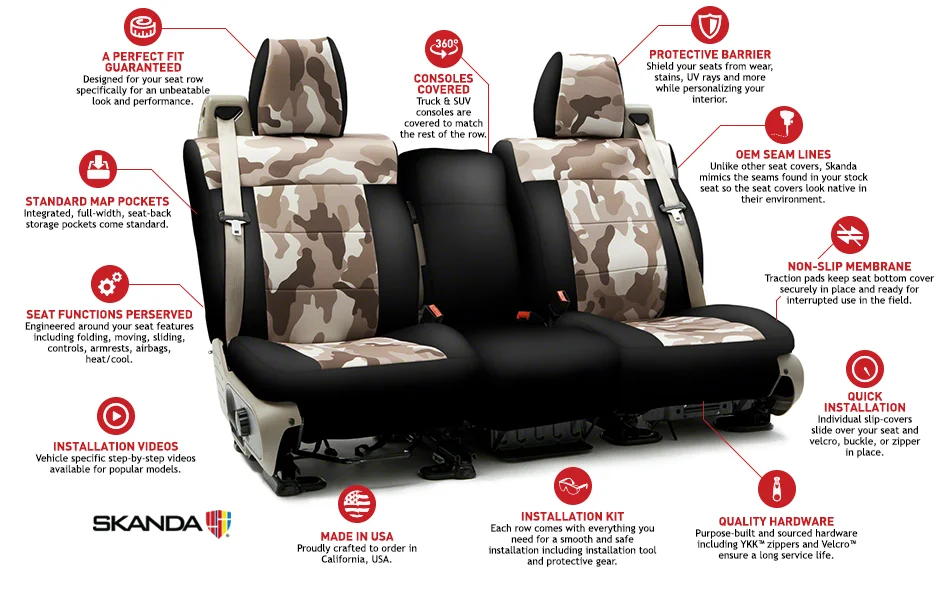 CarCoverUSA Reviews for Coverking Skanda Camo Car Seat Covers
2004-2023 CarCoverUSA, Inc. ©
3320 Cardinal Dr # 644453
Vero Beach, FL 32964