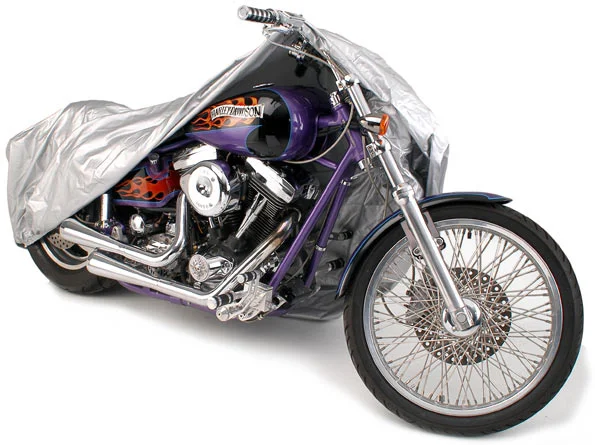 Coverking Motorcycle Covers Coverking use the most advanced fabrics, designed in house specifically for motorcycle.
Coverking Motorcycle Covers $59.99
| Part | Price | |
| --- | --- | --- |
| UMXBICYE62: Silverguard - Adult Bicycle Cover | $59.99 | |
| UMXSMALE62: Silverguard MotorCycle Cover - Small (Mopeds, Scooters, Bicycles) | $59.99 | |
| UMXMEDME62: Silverguard MotorCycle Cover - Medium | $59.99 | |
| UMXSBKEE62: Silverguard MotorCycle Cover - Superbike (for the unique shape, fairings, and exhaust of today's Superbikes) | $59.99 | |
| UMXCRSRE62: Silverguard MotorCycle Cover - Cruiser | $59.99 | |
| UMXFDCRE62: Silverguard MotorCycle Cover - Full Dress Cruiser - (with saddlebags, windshields, tall rear seats) | $59.99 | |
Several sizes assure a great fit, and Coverking's TS16949 Quality systems assure a properly designed and manufactured motorcycle cover. Coverking Universal Motorcycle Covers are designed to protect a Motorcycle without scratching the paint. 5 sizes cover most popular Motorcycles on the road today, from mopeds to full dress cruisers. Elastic hems on the front and rear keep the cover snug, while nylon grommets allow for security locks to keep the cover secure. Coverking Motorcycle covers are offered in Silverguard - for the best Sun, UV & Heat protection. Coverking's Silverguard Universal Motorcycle Cover is constructed from a unique polyester fabric with a silver reflective coating to protect your bike from the damaging rays of the sun. In addition to reflecting harmful UV rays, this cover is highly water resistant and provides great protection from air pollutants. Silverguard motorcycle covers are designed to provide the right fit for your motorcycle.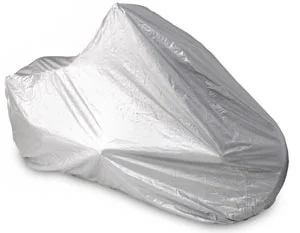 Provides maximum protection from the sun's damaging UV rays
Made from all-weather, 300 denier, silver-coated polyester material
Breathable fabric reduces condensation under cover
Protects from rain and other elements
Soft and compact cover is easy to put on and store
Available in reflective silver
CarCoverUSA Reviews for Coverking Motorcycle Covers
2004-2023 CarCoverUSA, Inc. ©
3320 Cardinal Dr # 644453
Vero Beach, FL 32964