Covercraft UVS100 Windshield Sunscreen custom fit per your vehicles windshield to reduce the interior temperature, and protect the vehicle interior from damaging heat, sun and UV that are present all year long.
Covercraft UVS100 Fold Up Windshield Sun Shield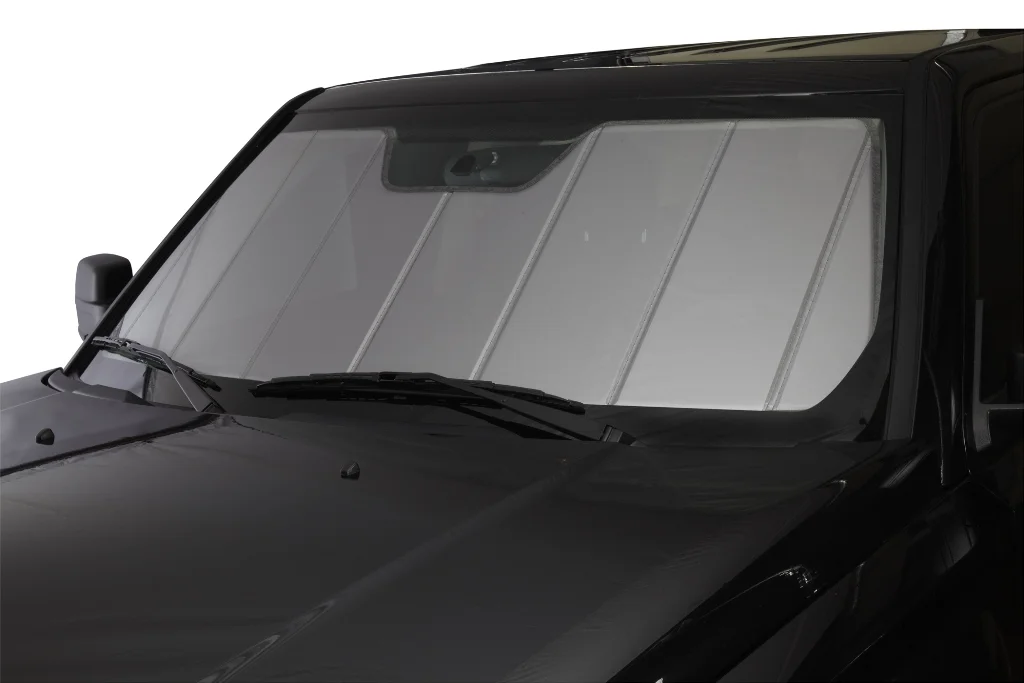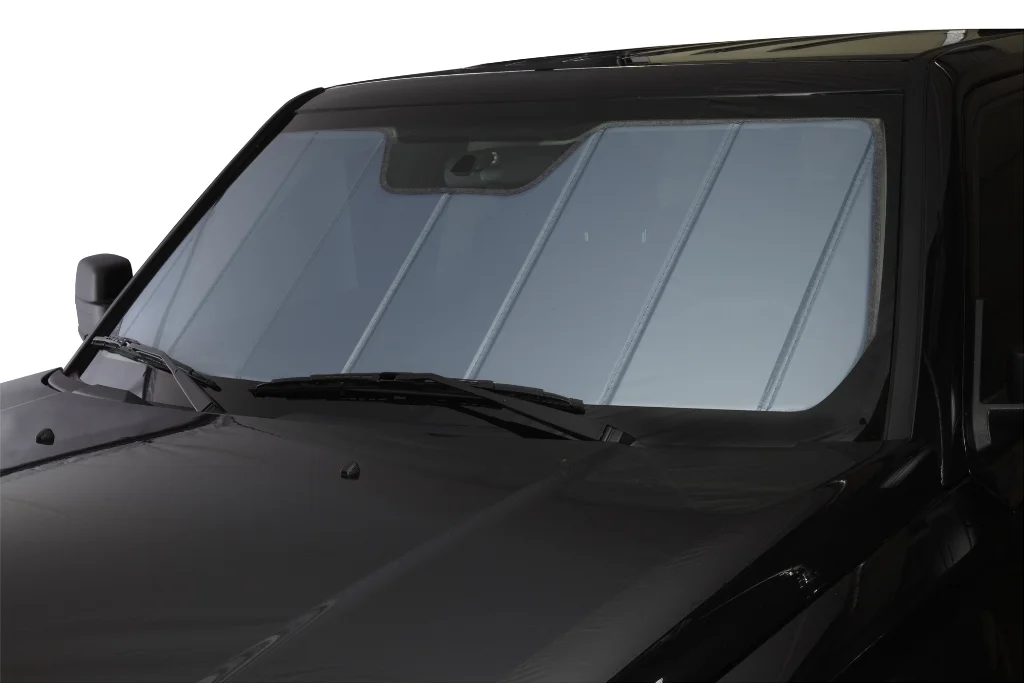 Enter Your Vehicle Info Below
Covercraft UVS100 Custom Windshield Sunscreen is the only windshield sunshade to earn a U.S. Patent. Covercraft makes the UVS100 Custom Sunscreen by hand, one unit at a time, from laminating the panels to cutting the pattern, these are truly Crafted2Fit®. The UVS100 Custom sunscreens not only help reduce the interior temperature when it's hot outside, they also protect the vehicle interior from damaging UV rays that are present all year long. These sunscreens are custom fitted to your vehicle to ensure maximum windshield coverage and ease of installation. Also called heat shields, sun shields or UV shields, windshield sunscreens are perfect at the beach, work, airport or anywhere you park.



Silver (SV)

Blue Metallic (BL)
Covercraft Windshield UVS100 UV Heat Shields, Sun Shields, Car Sunshades, Windshield Sun Shades - Color Choices


Triple laminate construction
Outside reflective surface – Soft felt surface inside
Foam core center – Acts as insulator
Accordion fold – Easy use & storage
Fold down sun visors to hold in place
* Please Note: Covercraft UVS100 Custom Sunscreens may not fully cover the entire glass area on some vehicles. Windshield pillar post angle to the dashboard, rearview mirror shape & size, camera and sensors all can prevent the Sunscreens from providing total blackout coverage. Its normal to have up to 1" of space on the sides to allow for install and removal with ease. The window sun shield / shade can not be made to the same exact size of windshield, being non flexible, and installing without bending and forcing into place and damaging the shields. The Covercraft Factory pattern designers make the windshield sun shades as to provide maximum coverage with easy install and removal.
Covercraft UVS 100 Heat Shields help reduce interior temperature and protect the interior from damaging sun rays that penetrate the front windshield. Covercraft heat shields are custom patterned and insulated to follow the outline of the windshield, Covercraft has over 1200 patterns to fit most popular cars, pickups and vans. Front windshield UV shields provide protection at the beach, work, airport anywhere you park, and they're easy to use. UVS100 Heat Shield Accordion Fold Design this premium quality, custom patterned, folding heat shield has a reflective fabric on the outer side, soft felt on the inside. Fabrics are laminated to a foam core board which acts as an insulator. Easy to use just unfold and position across the windshield surface, then fold the sun visors down to hold the shield in place. The outside facing fabric helps reflect damaging UV rays that not only heat the inside of your vehicle but also damage the interior. Your steering wheel, dashboard, seats and total interior will be cooler with the use of a Heat Shield!
Covercraft UVS100 Windshield SunShades Heat Shield - Fold Up Type
Covercraft UVS 100 Install Info
CarCoverUSA Reviews for Covercraft Uvs100 Windshield Sunshield
2004-2023 CarCoverUSA, Inc. ©
3320 Cardinal Dr # 644453
Vero Beach, FL 32964