Coverking Molded Mesh Seat Covers perfect contoured fit 3D warp-knitted and foam molded seat covers available exclusively from Coverking.
Coverking Molded Mesh Seat Covers
Coverking thermoformed molded custom seat covers are made from spacer mesh polyester material that's soft to touch yet durable enough for every day driving. Each set of covers are digitally scanned and precast with our sophisticated true fit technology, easily making this our best fitting seat cover ever created. Coverking molded car seat covers you can see and feel the contours of the seat. The fit is absolutely flawless Coverking's molded seat covers also includes a thick foam laminate for added rigidity and support. The material's backing includes a water resistant polymer attached to the breathable spacer mesh fabric. These seat covers are designed so that full seat functionality is not hindered. The set includes covers for your armrest, headrests and center consoles if applicable for your seat type.
Coverking Molded Mesh colors to choose from:



*** Color may vary since these are digital images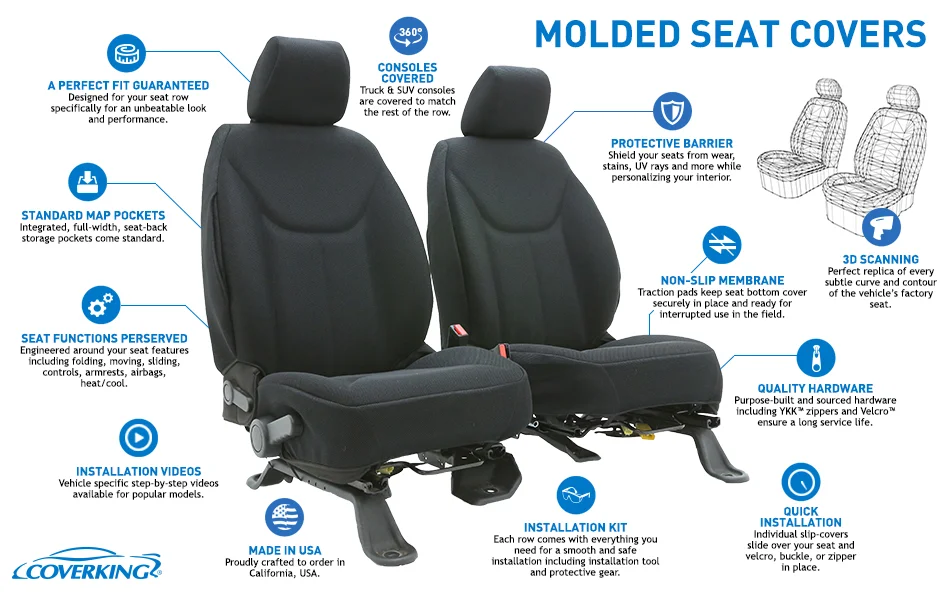 CarCoverUSA Reviews for Coverking Molded Mesh Car Seat Covers
2004-2023 CarCoverUSA, Inc. ©
645 Rossville Ave STE 3 #90004
Staten Island, NY 10309