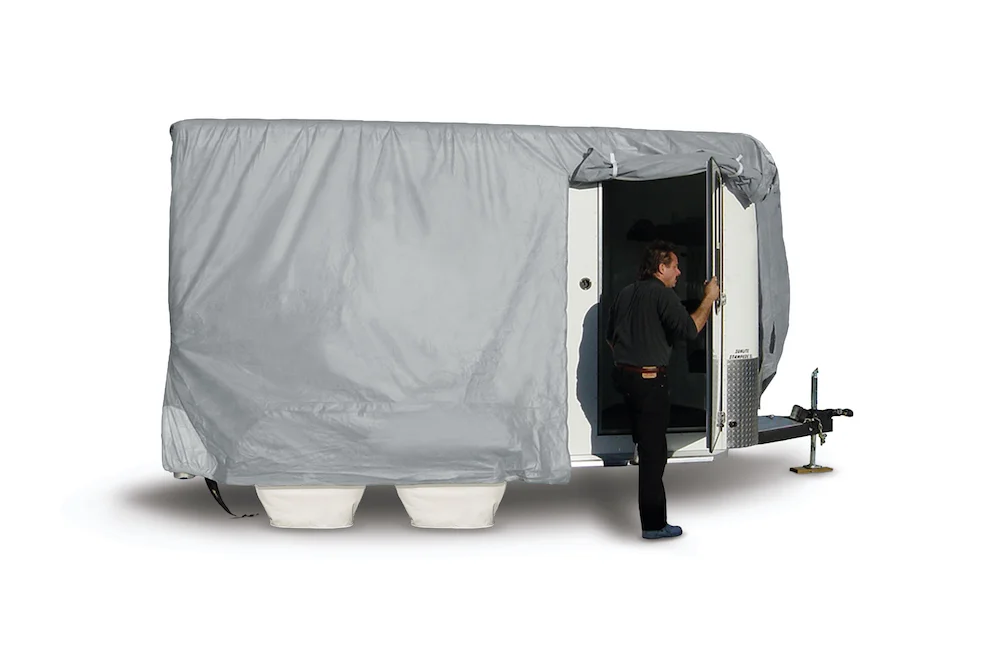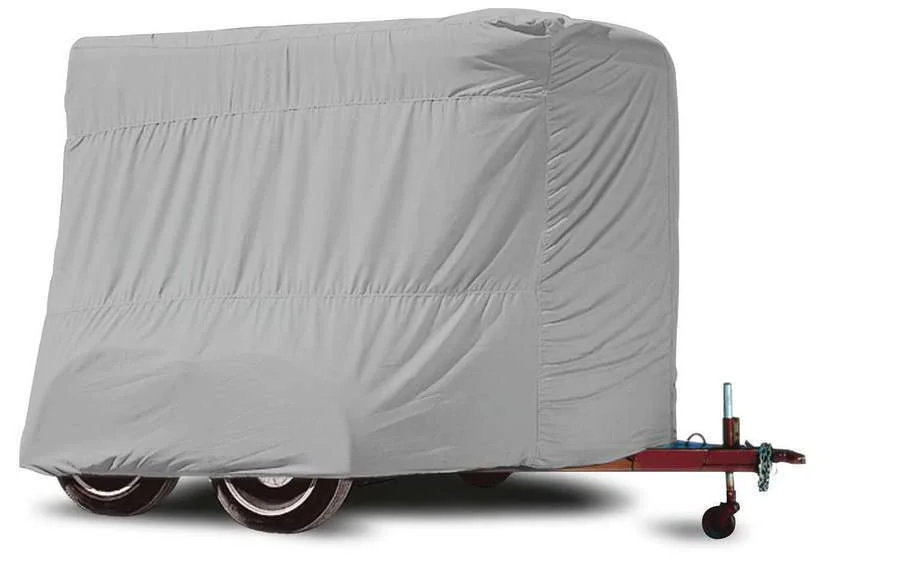 Adco SFS AquaShed Bumper Pull Covers
| Part # | Size | Price | |
| --- | --- | --- | --- |
| 46001 | Up to 10 ft | $250.99 | |
| 46002 | 10 ft 1" - 12 ft | $262.99 | |
| 46003 | 12 ft 1" - 14 ft | $276.99 | |
| 46004 | 14 ft 1" - 16 ft | $291.99 | |
| 46005 | 16 ft 1" - 18 ft | $305.99 | |
Is your horse embarrassed to ride in your horse trailer? Why are you letting your trailer rot on the side of your property when it could be easily covered and protected...
Protect your Bumper-pull Horse Trailer with ADCO's SFS AquaShed Horse Trailer Cover.
Designed for moderate climates with high moisture.
Features triple layer SFS AquaShed top panel and polypropylene sides
Significantly reduces premature aging of trailer and helps maintain resale value.
Reduces need for washing, waxing and roof treatments.
Protection against harmful UV rays that can cause unwanted cracking and fading on your trailer.
Multiple zipper entry doors for easy covered access to dressing room and rear ramp.
Reinforcements throughout cover significantly reduce snags & tears.
Reinforced Buckles, Flaps and Straps resist rip-out.
Front, rear and bottom buckle cinching system removes slack and prevents billowing.
Color is Gray on Top with Gray Sides.
Features ADCO's 2-Year manufacturer warranty
Up to 80" wide at the box portion of the trailer, 106" wide at the fenders, 94" tall (exclude ground clearance)
Includes
Why SFS AquaShed®?
Multi-layer composition includes microporous film that repels water but allows air to penetrate.
Soft to the touch yet durable
Moderate UV stability
This fabric is a great value for it's price point.
How to Buy the Best fitting Cover for your Horse Trailer?
Measure from the longest two points including bumpers and ladder but excluding hitch to determine proper size needed.