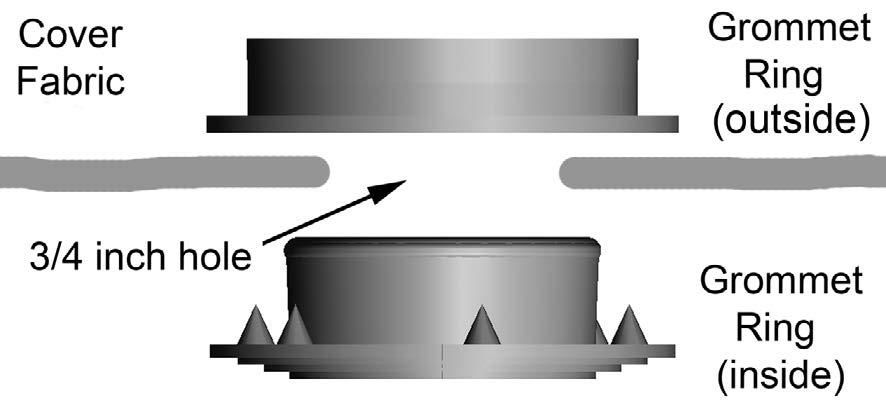 If your vehicle has an outside radio antenna which will not retract flush with the vehicle body, you will have to provide an opening in the cover.
We have included a non-corrosive plastic grommet set for the antenna opening.

1. The most accurate way to make an antenna opening is to remove the antenna and install the cover on the vehicle, making sure it is properly aligned and positioned. Using a sharp pencil, punch a hole through the fabric at the antenna location. Be careful to avoid hitting the vehicle finish with the pencil. If the antenna is not easily removed, see procedure #2.
2. Place the cover on the vehicle except for the fender or body panel where the antenna is located. For example, if the antenna is located on the front passenger side fender, roll or fold the cover away from the antenna and cover all the remaining area of the vehicle. (Do not attempt to place the cover over the top of the antenna.) Center the cover, align both seams with the roof edges and be sure the cover is pulled down evenly over the front and rear bumpers. Carefully unfold the portion of the cover that is next to the antenna and position it next to the base of the antenna. Recheck the overall positioning of the cover to make sure it has not moved on the vehicle. Make sure the cover lies flat over the hood and roof areas of the vehicle. Mark the cover with the location of the antenna base and make a hole with a sharp pencil.
3. Use sharp scissors to make the hole opening 3/4 inch in diameter and install the grommet as shown in the photo. The outside grommet ring fit is very tight.
4. Place the cover on a clean, hard surface. Position the inside grommet through the opening you made and then secure the outside grommet snap-ring in place using a rubber mallet.

IMPORTANT: When installing the cover, place the grommet over the antenna before placing the mirror pockets over the mirrors.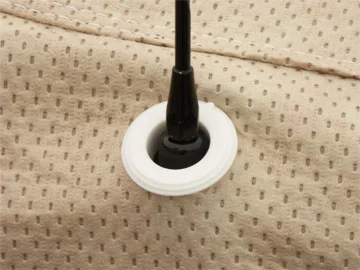 Covercraft Car Cover Antenna Grommet
| Part # | Description | Price | |
| --- | --- | --- | --- |
| ZSUP | Car Cover Antenna Grommet | $4.99 | |
2004-2023 CarCoverUSA, Inc. ©
3320 Cardinal Dr # 644453
Vero Beach, FL 32964