Covercraft Form Fit Motorcycle Covers
| Part # | Style | Price | Color |
| --- | --- | --- |
| XF001: Chopper with Backrest Sissy Bar | $226.99 | |
| XF002: Chopper | $214.99 | |
| XF003: Full Dress Tourer with Fairing Windshield, Saddle Bags, Backrest Sissy Bar, Travel Chest | $251.99 | |
| XF004: Large Cruisers with or with out Fairing Windshield with Saddle Bags with Backrest Sissy Bar | $214.99 | |
| XF005: Large Sport Bikes with or without Fairing Windshield with Saddle Bags | $189.99 | |
| XF006: Can Am Spyder with Backrest Sissy Bar | $206.99 | |
| XF007: Standard & Sport Bikes with small Fairing Windshield and Saddle Bags | $153.99 | |
Covercraft Form Fit Motorcycle Covers are designed to fit the shape of your factory motorcycle, regardless of what make or model you own. Sharing the same features as the Form Fit Car Covers, these lightweight super soft body hugging motorcycle covers look, feel and fit great for indoor storage. Form Fit available in 6 colors, 4 year factory warranty, storage bag included. Easy to clean in home washer and dryer. Form Fit protects, engineered to incorporate bike hugging polyester knit with Spandex (to provide stretch and recovery), Form Fit is finished on the underside with 100% cotton terry loop sheared to a luxurious soft fleece finish. Form Fit will pamper your paint while keeping dust and dirt at bay, and whenever it's dirty it can be easily cleaned in a home washer and dryer. It's the ultimate indoor motorcycle cover. Covercraft Form Fit Motorcycle Covers great protection.
Covercraft Form Fit Motorcycle Covers available in 6 Colors
Choose from six (6) colors: Super Soft Form Fit Indoor Motorcycle Covers, Bike Hugging stretch fit with 100% sheared fleece inside

Black (FB)

Charcoal (FC)

Blue (FD)
Silver (FG)

Green (FN)

Red (FR)
The Ultimate Indoor Motorcycle Cover
Body-hugging polyester knit outer shell is made with spandex (to provide stretch and recovery).
100% cotton terry loop is added to the underside of the shell during the knot process and then sheared to a luxurious fleece finish.
Fleece provides a super soft touch against fine paint finishes, wind screens, chrome, etc.
Form-Fit covers follow every curve of the bike for a truly custom fit.
Available for choppers to 10 feet overall length, full dress touring bikes, cruisers and sport bikes.
Easy to clean - just throw it in the washer & dryer at home!
Form-Fit covers carry a 4 year factory warranty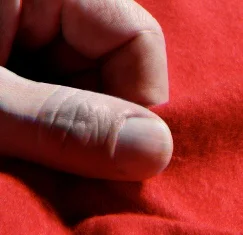 Cleaning Instructions Motorcycle, Scooter & ATV Cover Cleaning Instructions
Cover fabric performance can be severely affected by dirt that builds up on and within the material creating a 'wicking' effect that actually helps pull water through the fabric, nullifying any water resistant properties the fabric may have had. Cleaning your cover will help to keep your motorcycle, scooter or ATV clean and also increase the service life of the cover.
For Pack Lite WeatherShield, Form-Fit and Flannel Covers ONLY:
Never Clean a cover in a washer with a center agitator (OK if you don't have a choice for WeatherShield' fabric covers)
Never use fabric softener
Dry with care WeatherShield and Form-Fit covers can be dried in a dryer with regular heat, flannel can be dried on low heat.
Using a large commercial washer without agitator, wash the cover using 1/4 cup of Simple Green All-Purpose Cleaner. Put the cover in the washer and pour the cleaner in the tub after it's filled with warm water or pour it directly in the machine (some wall mounted commercial units), then put in the cover and start the machine.
Rinse the cover twice (2X) to remove all the cleaner.
Dry in a dryer with regular or low heat, or hang to air dry.
Covercraft Form Fit Motorcycle Covers | CarCoverUSA Product Reviews
---

2004-2021 CarCoverUSA, Inc. ©
645 Rossville Ave STE 3 #90004
Staten Island, NY 10309