Covercraft ATV Covers
| Part # | Size | Color | Price | |
| --- | --- | --- | --- |
| XM204SU: Xtra Large ATVs with or without racks 80" & up overall length | Silver Urethane | $104.99 | |
| XM204CM: Xtra Large ATVs with or without racks 80" & up overall length | Green Camo | $138.99 | |
| XM200SU: Large ATVs with racks 72" to 79" overall | Silver Urethane | $80.99 | |
| XM200CM: Large ATVs with racks 72" to 79" overall | Green Camo | $106.99 | |
| XM202SU: Large ATVs without racks 72" to 79" overall | Silver Urethane | $73.99 | |
| XM202CM: Large ATVs without racks 72" to 79" overall | Green Camo | $99.99 | |
| XM201SU: Small ATVs with racks under 72" overall | Silver Urethane | $72.99 | |
| XM201CM: Small ATVs with racks under 72" overall | Green Camo | $99.99 | |
| XM203SU: Small ATVs without racks under 72" overall | Silver Urethane | $60.99 | |
| XM203CM: Small ATVs without racks under 72" overall | Green Camo | $82.99 | |
Covercraft ATV Covers semi custom fitting for all weather outdoor and indoor storage. Protect your ATV and keep it looking new. Multiple sizes available fit with and without racks. Silver or Camo color, 2 year factory warranty.
Features & Benefits
Made of urethane-coated polyester - silver finish reflects heat and UV rays or camo finish for use by hunters.
The tough fabric is waterproof and will also protect against tree and bird droppings.
Elastic in the hem at front and rear helps hold the cover in place.
All stress seams are overlapped and double stitched for maximum strength.
Includes tie down grommets and storage bag.
Covercraft Ready Fit ATV Covers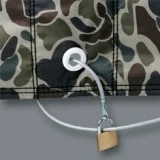 Optional Power Sports Cable & Lock Kit: 30" Vinyl coated steel cable & Lock kit
Covercraft ATV Cover Lock & Cable
| Part # | Description | Price | |
| --- | --- | --- | --- |
| ZCML | Power Sports Cable & Lock Kit | $9.99 | |
The Ultimate ATV Protection From Covercraft Like most power sports toys, your All Terrain Vehicle spends much of it's life in storage. Whether that storage is indoor or outdoor, COVERCRAFT has the ATV cover for you. A quality cover, like Ready Fit ATV cover is the best protection available. Protecting the finish and upholstery is as simple as installing a weatherproof cover. 4 sizes are available to fit most ATV's with or without racks. These all weather silver reflective covers, protect your ATV in extreme weather conditions, from dust and moisture in protected storage. For the avid sportsman, our ATV covers featuring CAMOFLAGE pattern. Semi-custom all weather ATV covers provide protection against heat and UV rays, as well as rain and tree or bird droppings. All stress seams are overlapped and double stitched for maximum strength, and an elastic hem is sewn at the front and rear to help hold the cover in place. Covercraft ATV are available in Camo or Silver.
Cleaning Instructions Motorcycle, Scooter and ATV Cover Cleaning Instructions
Cover fabric performance can be severely affected by dirt that builds up on and within the material creating a "wicking" effect that actually helps pull water through the fabric, nullifying any water resistant properties the fabric may have had. Cleaning your cover will help to keep your motorcycle, scooter or ATV clean and also increase the service life of the cover.
For Urethane Coated Cycle, Scooter and ATV Covers ONLY:
Clean the cover while installed or lay on a flat surface.
Mix one ounce Simple Green All-Purpose Cleaner per quart of warm water.
Spray or sponge onto cover.
Rinse with plain water (until no suds) and allow to air dry.
---
ATV Cover, Covercraft ATV Ready Fit Covers
Covercraft Atv Covers | CarCoverUSA Product Reviews

2004-2021 CarCoverUSA, Inc. ©
645 Rossville Ave STE 3 #90004
Staten Island, NY 10309